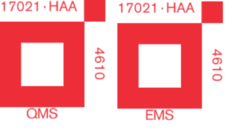 the term "accreditation"....

Third-party assessment, which refers to the conformity assessment body, and which provides formal proof of its competence to perform certain conformity assessment tasks!



Accreditation is a word that is often associated with certification houses and many will claim that they are "accredited", but what exactly does this mean in the world of management system certification? Accreditation refers to the very process of recognition and confirmation of the quality of the certification body (that's us, ICS) and the specific activities we carry out in third-party certification (that's you, our clients) by an independent body. Accreditation is a procedure by which an accreditation body evaluates a certain institution and confirms that it is professionally and technically qualified to work by internationally accepted rules. To be able to prove this, there is a special norm that we use in our work and which proves that the same rules of quality and process approach, risk monitoring, and continuous improvement apply in our business. The ISO/IEC 17021-1:2015 standard was created exclusively for certification bodies, and according to it, the accreditation body checks whether we have met all the requirements of that standard. The accreditation procedure is carried out for certain standards that the certification body wants to verify (eg ISO 9001 or ISO 14001) and for certain areas (eg food, services, production).

More details about our accreditation, as well as the name of our Institute, can be found on the list of accredited bodies in the Republic of Croatia, and the same can be found in the e-Register of accredited bodies, which is publicly available on the HAA website www.akreditacija.hr (under number 4610) and it contains all relevant information about our accreditation (eg EA and Nace Code for which we are approved, date of validity of the Accreditation, Norms for which we are accredited, etc.).

For more information, feel free to contact us at + 387 33 831 550. century the most valuable capital.
We know what drives an organization, (de)motivates it, and how it works...